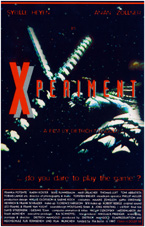 X P E R I M E N T - a computer game that allows us to play out the relationship between MAN and WOMAN.

PLAY OUT YOUR RELATIONSHIP! Select your players: a man and a woman. Choose their personal characteristics: animal, childlike, adult, hyperintelligent or perverted ...
Press the START! button and let them loose - in a confined room with no way out...

We select two "childlike" players and place them in a paradisal, but hermetically closed room. In the beginning the two of them enjoy their happy, carefree existence, but the relationship is doomed to progress: from just being buddies to love, lust, sex - and, eventually, hurt and misunderstanding...
When the young woman discovers that she is pregnant, the relationship reaches a critical stage. HE is not willing to abandon the easy life of beer, bed and TV in this paradise for an uncertain future in an unknown place. They break up - and SHE breaks out of the room.
But HE hadn't reckoned with loneliness. Anxious and curious, HE sets out to look for HER - and breaks out, too. Eventually finds HER in a barren, apocalyptic desert, HER and the baby she's just given birth to ... HE can't face it. Panics - runs away - JUMPS.
And thankfully finds himself back in paradise again. But this time HE's not alone. Guys from the other rooms in paradise have got together for a wild boys' night of beer, music and the sport program on TV ... BLISS ...
Prädikat: WERTVOLL
Evaluation of the Xperiment: Highly probable... End of demo version. Do you want to play for REAL?
As every party comes to an end, we see HIM, drunk and sentimental, heading home - to his woman and child.
Could it be a malfunction of the program?
.
.
.
. . .
15 min short feature shot on 35mm 1:1,85 Dolby SR